Tips On How To Increase The Value Of Your House
Whether you're planning to put your Cheshire residence on the market soon or you're investing in the long-term potential of your property, increasing the value of your house can be a smart move. There are numerous strategies that homeowners can use to ensure their property stands out and earns a top valuation in a competitive market like Cheshire's. In this article, we'll explore a variety of tips that can help to boost the value of your house, from quick updates to more significant renovations. So grab a cuppa and let's dive into how you can enhance the worth of your Cheshire home.
1. Enhance Your Home's Curb Appeal
First impressions count, and that couldn't be more true when it comes to the value of your home. Improving your property's exterior – also known as its curb appeal – is essential. Simple steps like painting the front door, adding new house numbers or a mailbox, and tidying up the front garden can make a big difference. Consider investing in some landscaping; even if you're not particularly green-fingered, a neat lawn and some well-placed shrubs or flower beds can do wonders. Don't forget external lighting, which can enhance the appearance of your property and provide an added security feature.
2. Upgrade Your Kitchen
Often referred to as the heart of the home, the kitchen can be a deal-breaker for many buyers. A well-thought-out, functional kitchen can considerably increase the value of your house. It doesn't necessarily mean a full remodel. Sometimes, replacing cabinet doors, handles, and worktops or adding a stylish backsplash can refresh the space without breaking the bank. If you do opt for a full renovation, consider the layout, storage, and lighting to ensure the space meets the needs of modern living.
3. Refresh Bathrooms
Like kitchens, bathrooms play a significant role in a home's value. Upgrading old fixtures, applying fresh caulk, and ensuring good ventilation can vastly improve the appeal of your bathroom. If your budget allows, consider modern touches like a walk-in shower, underfloor heating, or a heated towel rail for a touch of luxury that prospective buyers will love.
4. Create Space and Flow
Open plan living areas are highly sought after, and removing non-structural walls to create open, airy spaces can add significant value to your Cheshire home. If you're planning bigger structural changes, always consult a professional to ensure any modifications are safe and meet building regulations. Additionally, consider the potential of converting a loft or cellar into a living space, adding a conservatory, or building an extension – all of which can increase square footage and appeal to buyers looking for more room.
5. Go Green
Energy efficiency is becoming increasingly important to homeowners in Cheshire and beyond. Upgrading to double or even triple-glazed windows, insulating lofts and walls, and installing energy-efficient heating systems can make your house more attractive to energy-conscious buyers and may help to reduce running costs, which is a strong selling point.
6. Update the Decor
A fresh coat of paint in a neutral colour can work miracles for refreshing your home and making it more appealing to a broad range of buyers. Replace outdated wallpaper, fix any scuffs or marks on walls, and consider updating light fixtures to give rooms a modern look. It's surprising how much value these simple decor updates can add to your home without requiring a substantial investment.
7. Focus on Flooring
Quality flooring is another feature that can increase the value of your home significantly. Whether it's beautiful hardwood flooring, stylish tiles, or high-quality carpets, ensuring that your flooring is in excellent condition is crucial. If replacing flooring isn't within your budget, professional cleaning or strategic placement of rugs can help to cover imperfections and improve the overall look of your rooms.
8. Improve Efficiency with Smart Technology
Smart home technology is becoming more commonplace and can be a significant draw for buyers. Simple additions like smart thermostats, security cameras, or smart lighting can be selling points that also improve the functionality and efficiency of your home. The key is choosing technologies that will have broad appeal and won't quickly become outdated.
9. Tend to the Basics
It's essential not to overlook the basics, such as ensuring your home has no structural problems, damp issues, or outdated electrical systems. Tending to these fundamental areas can prevent a sale from falling through and may increase the value of your home as buyers will feel confident that they're purchasing a property that has been well-maintained.
10. Enhance Outdoor Living Spaces
In Cheshire, as in many parts of the UK, buyers value outdoor space highly. If you have a garden, consider adding decking or patio areas where new owners can imagine themselves relaxing or entertaining. Make sure fencing is in good repair, and think about additional features, like a garden shed or water feature, which can be small investments that yield a great return.
11. Obtain Planning Permission
Even if you're not planning to extend your property now, having planning permission in place can increase its value since it saves potential buyers the headache of going through the process themselves. It also paints a picture of what could be done with the property, which can be very enticing.
12. Address Snagging Issues
Before valuations or viewings, go through your home and make a list of all the little jobs that need doing – fixing a leaky tap, repairing a broken fence, replacing a cracked tile. These may seem insignificant to you, but to a buyer, they can be off-putting or suggest that the house hasn't been well maintained.
Conclusion
Incorporating some, or all, of these tips into your strategy for increasing the value of your house in Cheshire can make a substantial difference in its market value. Remember, sometimes the smallest changes can have the most significant impact – it's all about making thoughtful updates that will appeal to potential buyers. And, when in doubt, consult with local estate agents or professional property advisors; they'll have their finger on the pulse of what's hot in the Cheshire property market. Good luck – and happy renovating!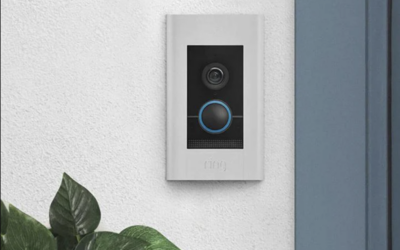 Picture this: a doorbell that merges the utility of a smart security camera with the convenience of a full-feature intercom. That's the Ring Video Doorbell Elite for you – an all-rounded home security solution that's causing a splash in today's tech-smart space. Let's...
read more